The past couple weeks I have been keeping a close eye the price of gold and the Gold Miners Index. I check to see if it's pointing to higher or lower prices in the near future using intermarket analysis, price and volume, along with technical analysis. At this time, the charts are still pointing to lower prices in the coming days or weeks.
Daily Chart of Gold
As you can see, it has formed a bear flag with declining volume and the price has drifted up into a resistance level. This combination typically leads to lower prices.
With international fears floating around, and the fact that inflation has started, does make me a little weary of shorting gold but one thing I have learned over the years is that trading on fundamentals and news clips seen on TV is not a reason to pass on a setup if one forms in the coming days. The only thing that pays in the stock market is when the price action goes in your favor. This is why I focus on price, volume and momentum while avoiding what others are saying elsewhere. Trading is a numbers game and I put my money on the table when the odds are clearly favoring one direction. Unfortunately, I am trading trades against what the masses think and feel is the right thing to do.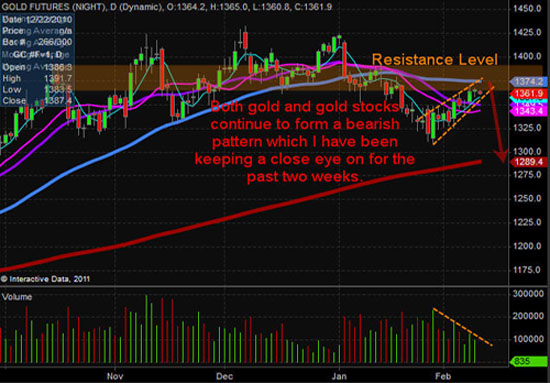 Gold Miner Stocks
Gold miner stocks are forming much of the same pattern as gold bullion, but on Wednesday the chart actually put in a possible reversal candle. If this is correct, we should see gold and most likely silver follow suit by moving lower and possibly even start a correction.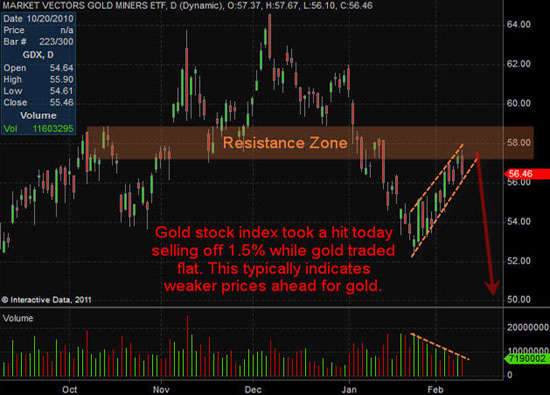 Gold Swing Trading Conclusion
In short, gold stocks sold off strong today while both gold and silver closed only slightly lower. When this happens near a resistance zone, with a bearish price and volume patterns, I start to look for a shorting opportunity. It has yet to happen and I'm not going to jump the gun, but I am waiting for the right opportunity to take advantage of these trading instruments.
If you would like to get my daily trading analysis and swing trade alerts please join my newsletter:
http://www.thegoldandoilguy.com/trade-money-emotions.php
.
Chris Vermeulen