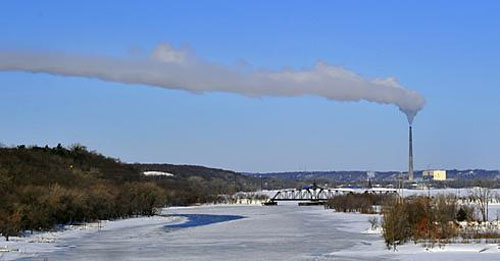 The EPA, which saw its budget rise under President Obama, is now the target of deep spending cuts by House Republicans, some of whom want to stop its regulation of greenhouse gas (GHG) emissions.
On Wednesday, the House appropriations' leader proposed slashing more than $1.6 billion from Obama's $10 billion EPA budget request this year. Targeted programs deal with air pollution, drinking water, energy efficiency, renewable energy and Energy Star products. "Never before has Congress undertaken a task of this magnitude," Appropriations Committee Chairman Harold Rogers, R-Ky., said in releasing
a $74 billion list of cuts
for an upcoming stopgap budget known as a "continuing resolution."
Conservative House
Republicans are pushing for even deeper cuts totaling $100 million
, reports POLITICO.
EPA's budget jumped from $7.6 billion in fiscal 2009 to $10.3 billion last year, but the agency is facing tough opposition this year from the new GOP-controlled House of Representatives. A House hearing Wednesday offered a glimpse of the tension.
"Congress intends to reassert itself in the statutory and regulatory process at EPA and specifically the Clean Air Act," Chairman of a House energy and power subcommittee Ed Whitfield, R-Ky. said at the hearing. He is drafting a bill to block EPA from using the law to control heat-trapping pollution, arguing the regulations will hike electric rates and kill jobs.
EPA Administrator Lisa Jackson told the panel that the Clean Air Act and scientific evidence on global warming has compelled EPA's action. On Jan. 2, the agency began requiring large facilities that already obtain permits for other pollutants to include GHGs in their permit if they increase emissions by at least 75,000 tons/year. The EPA will be proposing industry-specific standards this year.