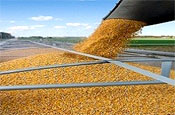 Despite U.S. farmers move to plant more corn this spring, supplies will remain tight through 2012, according to U.S. Department of Agriculture Chief Economist Joe Glauber. "To think we're at a 5% stocks-to-use ratio, to get stocks-to-use ratio for corn up to 10%–13%, you'd have to bring in a lot of acres," Glauber said, "I don't think you're going to get up to those levels in one year."
This week, the USDA released its monthly crop report, in which it proclaimed that U.S. corn supplies will match lows not seen in 15 years. The USDA cut its estimate of how much corn would be in U.S. stockpiles at the end of August by 9% to 675 million bushels. This bigger-than-expected cut sent futures soaring to more than 2.5-year highs Wednesday.
The 2011 and 1996 crop years are "really the only comparisons in modern history," said USDA Grains Analyst Jerry Norton. Exports were a fraction of total use in the 1930s making it difficult to compare. Supplies as a percentage of usage have fallen below 10% in only four years since 1960, Norton said.
Corn, wheat and soybeans are prime examples of fertilizer-intensive crops—crops that require a great deal of fertilizer applications in order to grow to their prime condition. As the prices of these grains go up, so does the incentive for farmers to fertilize their crops. This, in turn, is good news for potash and phosphate prices.
Corn supplies are declining as strong demand from ethanol producers is rekindling the debate about using food as fuel. On February 14, the USDA will release its annual agriculture industry outlook. This document will contain projections through 2020.