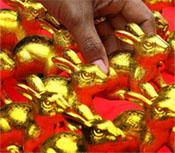 JP Morgan said it will allow clients to use the metal as collateral in some transactions. For example, a hedge fund wanting to borrow money for a short period can put up gold as collateral and use the borrowings to invest elsewhere, betting on making a better return. Typically, banks accept only Treasury bonds and stocks in such agreements. By making the announcement, JP is effectively saying gold is as rock solid an investment as triple-A rated Treasuries, adding to a movement that places gold at the top tier of asset classes. It also is trying to capitalize on all the gold now owned by hedge funds and private investors that is sitting idle in warehouses.
"It's solidifying a trend that gold is re-establishing its role as a monetary and financial asset," said CPM Group Associate Research Director Carlos Sanchez.
JP Morgan said it is responding to demand from clients, many of which also store gold in the bank's vaults.
"Many clients are holding gold on their balance sheets as an inflation hedge and are looking to make these assets work for them as collateral," said JP Morgan Worldwide Securities Collateral-Management Executive John Rivett.
The company's decision Monday reignited debate among gold's fans and detractors. For decades, supporters have argued gold is a monetary asset and should be treated on an equal footing with cash. However, gold critics argued the market has been too volatile and too small for it to be considered a legitimate currency.
Recently, though, gold's status has been rising.
Exchanges in New York, Chicago and Europe recently agreed to accept gold as collateral for certain trades. And the WGC is gaining traction in its push for the Basel Committee on Banking Supervision accept gold as a Tier-1 asset for banks, along with government bonds and currencies.