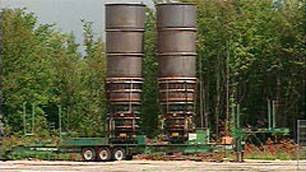 Citizens groups in the St. Lawrence valley met in Drummondville, Que., Sunday with the aim of stopping shale gas development in the province.
Premier Jean Charest's government initially seemed positive about natural gas mining but has recently cooled its support, announcing in late January that it would wait to see results from a study by the provincial impact-assessment agency in February before deciding how to proceed.
But the groups that met this weekend want a moratorium declared now.
Paul Legault, a concerned citizen from Drummondville, said his thoughts on shale gas have grown from hesitation to outright opposition as he has done more research.
Legault said it's too easy for shale gas developers to get rights to private lands, and he's worried about the risk of water contamination.
Quebec's Ministry of Natural Resources said in January it had found leaks of natural gas in 19 of 31 shale gas wells it inspected, which led the government to threaten a stop to the developments, but Legault said it won't mean anything until it's official.
Quebec is sitting on vast natural gas deposits, with potentially billions in royalties and billions of cubic feet in untapped resources.
They are located in three main regions targeted by the oil and gas industry for exploration, including the regional county municipalities of Lotbiniere and Becancour southwest of Quebec City, and Les Maskoutains northeast of Montreal.
In Saint-Hyacinthe, Québec Solidaire MNA Amir Khadir said shale gas won't do much to benefit locals and that the province should stop fossil fuel development in favor of green energy.
The Parti Québécois opposition has also said it will push the Liberals for a moratorium.