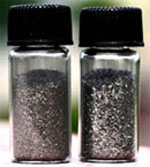 China is building strategic reserves of rare earth elements (REEs), which could give Beijing increased power to influence global prices and supplies in a sector it already dominates. Details of the stockpiling plans haven't been made public, but outlines of the effort have emerged in recent statements from Chinese government agencies, state-controlled companies and reports in government-run media. The reports say storage facilities built in recent months in Inner Mongolia can hold more than the 39,813 tons China exported last year.
Industry observers say that if the stockpiling efforts further restrict China's exports, it could raise hackles higher in foreign capitals where some governments already are threatening to challenge Beijing's quota regime by complaining to the World Trade Organization.
Further limits on Chinese exports of REEs also threaten to raise costs for companies in an array of industries, including cell phones, oil refining and high-tech batteries.
Chinese government agencies also manage other official stockpiles for commodities, such as copper and corn. And many governments worldwide amass similar stockpiles to address temporary emergency shortfalls.
In recent years, China has expanded the number of commodities it holds in reserve and appears to actively manage their use, but does so with little transparency and sometimes in ways that appear designed to influence market prices, analysts say.
China isn't alone in looking to stockpile REEs. Japanese and South Korean governments say they've amassed some reserves and U.S. analysts have called for a similar effort. But China appears to be ahead of other countries.
While the country says its deposits of rare earth minerals account for only about a third of the global total, the country mines most of the world's marketed supply, which has raised concerns that China could deplete the supply too quickly. Recently, the USGS estimated China has about half the world's 110 Mt. of REE deposits.