Maybe the weak are simply being weeded from the gene pool so the strong may survive. This theory might help explain why people keep electrocuting themselves to death cutting into live power lines to extract copper.
Stories of deaths related to copper thefts have been all over the news:
I could go on, but I think you get the point.
I guess these people aren't bright enough to know that rather than risk electrocution, it's easier to rob someone's house and take out the copper pipes, break into a sewage treatment plant for 16 spools of copper, break into churches and steal heating and air conditioning units, steal chicken wire or even break into a power company substation.
All of these instances have been reported since 2006, thanks to increases in both copper demand and people's desperation to make a buck.
Copper Price to Spike Higher
Sad thing is these thefts will continue, as the price of copper is on track to spike even higher. The already bullish outlook for copper is still being strengthened by several things:
U.S. manufacturing activity for January shot to its highest level since 2004.


Chinese purchasing managers' indexes showed growth.


Eurozone manufacturing rocketed to a nine-month high, according to The Wall Street Journal.


As the Chinese come back from the Lunar New Year holiday, we could see even higher copper prices.
Global supplies of copper will also remain tight and could help send prices to at least $12,000—maybe even higher by 2012—as supplies are expected to fall short by 700,000–800,000 tons this year.
Copper demand is likely to overtake supply this year by close to 455,000 tons, according to Barclays Capital.
Consumption is exploding in China, Brazil and the United States. New ETFs are also helping drive demand. But we believe copper will pull back slightly following its historic run north. And only on pullbacks would we suggest buying more.
And There's a Much Easier Way to Profit
(Rather than dying for it, I mean.)
Prices will continue to climb higher as stronger growth and increasing inability to find materials quickly enough to meet skyrocketing demand will keep copper prices from toppling. It's not bubbling out of control; demand is very real and supply is short.
Even Goldman Sachs says copper has the "greatest upside"—thanks to weak inventory and strong demand delivery "driven by emerging market urbanization, and a constrained supply outlook."
Still, I wouldn't back up the truck on copper just yet. Pullbacks are likely as profit takers come in. Plus, what if China comes in and buys less copper cathode and increases it's buying of scrap. . .or cuts back on purchases?
While we believe copper prices could fetch as much as $11,000 over the year, it's better to buy on pullbacks. Nothing ever goes up in a straight line, but here's what I do like on pullbacks. Take a look at Freeport-McMoRan Copper & Gold Inc. (NYSE):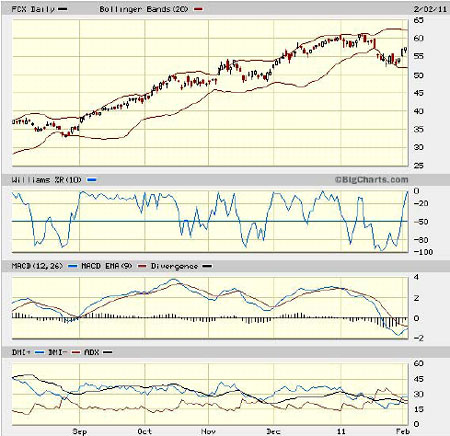 On pullbacks, buy stocks like FCX (which just split 2:1).
While the bulls seem to be in a buying mood, according to MACD and DMI reads, Williams % Range (W%R) is putting in an extremely oversold read.
We'd suggest buying more following any pullback, post-gap fill.
As Jim Rogers believes:
"If the world economy gets better, commodities are going to make a fortune. If the world economy does not get better, commodities is the place to be because they are going to print more money and that's how you protect yourself."
Stay Ahead of the Herd,
Ian L. Cooper
Editor,
Wealth Daily