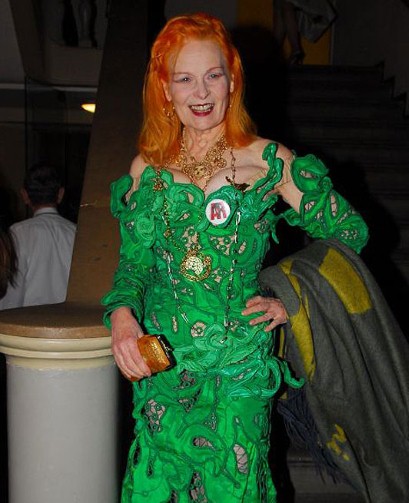 Dame Vivienne Westwood, the high-priestess of punk, will mark the opening of London Fashion Week next month, with an extravagant launch of her precious jewelry at the Wallace Collection, on Friday, February 18.
Housed in an historic London townhouse, The Wallace Collection will be the setting for Westwood's 'Get a Life' Palladium jewelry collection—a range of one-off couture pieces and ready-to-wear designs—crafted from palladium, a rare precious metal, with an underlying message—to respect the planet.
The pieces—which represent Westwood's first serious foray into precious jewelry—are inspired by nature and pagan symbols, representing strength, luck, power and hope, and will be displayed amongst paintings by artists such as Titian, Rembrandt, and Franz Hals, exquisite porcelain and an array of princely arms and armor in Britain.
The jewelry collection is a collaboration between Westwood and the
Palladium Alliance
.
Throughout her four decades as an outspoken fashion renegade and pioneer, Vivienne Westwood has used her designs as a vehicle for communicating ideas, and the Get a Life palladium jewelry range is no exception.
"Get a Life is a turning point, a catalyst for change—from the destructive to the simple and organic," is her rallying cry. "Get a Life is about how we stop climate change and therefore preserve life for the next generation, while at that same time get a better life."
Her Palladium jewelry collection incorporates elements, such as the acorn and the oak, inspired by the need to act, affect, preserve and allow our environment to flourish.
The ready-to-wear palladium pieces will be sold in the Vivienne Westwood boutiques in London from the end of next month.
The launch will be a prelude to the catwalk presentation of Westwood's autumn/winter 2011/2012 Red Label collection, at London Fashion Week, on Sunday, February 20.