Automakers may be gearing up to launch full lineups of electric vehicles, but some environmentally conscious people and businesses in Japan aren't waiting around. They're going green by converting their old gasoline-powered cars.
The total conversion cost can be limited to ¥1–¥1.5 million per car if lead batteries are used instead of costly lithium-ion batteries, said Japan Electric Vehicle Club Member Naotsugu Mihori.
Converted EVs can run legally on public streets if they pass the transport ministry's mandatory safety checks.
"About 70–80 members of our club have already gotten their converted EVs to clear the safety checks," Mihori said. Because electric vehicles incur only ¥1–¥2 per km. in terms of energy costs, converted model owners can limit their car-related energy expenses. Mihori's club powered a Daihatsu Mira minivan with a lithium-ion battery and drove it 1,003 km. in about 27-1/2 hours on a single charge during a demonstration last May at the Tsukuba Circuit, a racetrack in Shimotsuma, Ibaraki Prefecture.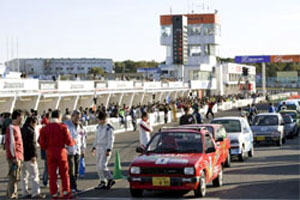 Expediting conversions on a massive scale would help cut greenhouse gas emissions and protect the global environment, said Akihiko Nakaya, a board member of Auto Works Club. Co., a Tokyo-based company that offers conversion services.
"We have received some 20 inquiries from car owners who are interested in having us convert their vehicles," Nakaya said.
Fitting those cars with lithium-ion batteries to ensure a relatively long range would cost more than ¥3 million, while about ¥1.5 million is usually enough if they use lead batteries. But that means only getting 20–30 km. per charge, he said.
Growing public interest in converted cars was underlined when 27 such vehicles competed Nov. 3 in the Japan Electric Vehicle Club's 16th endurance race. Altogether, the annual race attracted a record number of entries.