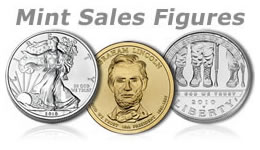 It was another week of mostly slowing sales for U.S. Mint products, including its headline-making bullion American Gold and Silver Eagles. After U.S. Mint Silver Eagles jumped out of the gate in early January to snatch a new all-time monthly record, not a single sale has been recorded since Friday. In weekly gains, a modest 136,000 were purchased—one of the slowest levels in months. Nearly 1.2 million of the .999 fine silver coins were ordered during the previous week. The American Silver Eagle January tally now sits at 4,724,000.
U.S. Mint 22 karat American Gold Eagles in the one-ounce size moved a bit quicker compared to "normal" weekly advances, rising 7,500 for a new year-to-date total of 80,500. Still, their pace during the previous week was more than four times faster at 30,500.
The biggest U.S. Mint numismatic mover was the clad 2011 Proof Set which went on sale January 11. Collectors grabbed another 25,879, bringing their total to 279,023. That figure, however, is well below the openings of the last four issues when they just had a few days of sales under their belt.
Expect the
2011 Silver Proof
set to take the numismatic leader reins in next week's stats. The U.S. Mint set which contains 14 proof coins with 7 of them minted in 90 percent silver was launched on Tuesday, January 25. The 2010 issue registered 241,656 sales during its first four days on the market.