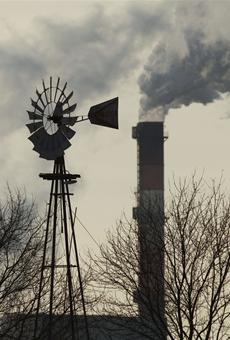 America's wind industry, which had been growing rapidly, lost some of its wind last year. Its growth in 2010 was barely half that of its record in 2009, although it ended the year on a strong note. The industry built 5,115 megawatts of new wind power last year—the lowest in any year since 2006—and the bulk of that (3,195 megawatts) occurred in the fourth quarter, according to the American Wind and Energy Association.
"Our industry continues to endure a boom-bust cycle because of the lack of long-term, predictable federal policies, in contrast to the permanent entitlements that fossil fuels have enjoyed for 90 years or more," Denise Bode, the group's CEO, said in releasing
AWEA's Q410 report
.
Yet the report says the industry is starting 2011 much stronger, given Congress' one-year renewal last month of the federal tax credit for wind power. "Wind's costs have dropped over the past two years, with power purchase agreements being signed in the range of 5 to 6 cents per kilowatt-hour recently," said Elizabeth Salerno, the group's director of industry data & analysis. She expects its price, relative to nature gas, will continue to fall.