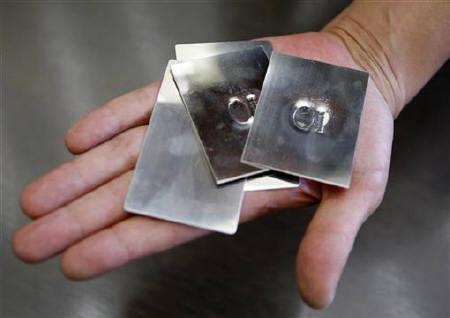 Palladium is expected to outpace platinum to make further gains this year but investors should not hold out for a repeat of 2010's stunning rises as growth in emerging car markets moderates, a Reuters poll showed.
The poll shows analysts are more upbeat on the prospects for both platinum and palladium this year than they were six months ago, but some caution has crept into views on palladium.
The poll of 45 leading precious metals analysts offered a median price forecast of $795 for palladium in 2011, compared with a forecast of $519 made in July and last year's average London Bullion Market Association fixing of $526 an ounce.
Palladium almost doubled in price last year to reach highs not seen in close to a decade at $825.50, as investors prepared for surging demand in emerging economies such as China, where it is used in gasoline-powered vehicles.
Investment in palladium and platinum through exchange-traded funds (ETFs) backed by physical metal was also a major driver for the market last year.
While palladium is expected to outstrip other major precious metals again this year, measures by Beijing to tackle congestion and pollution, coupled with a potential increase in supply from top producer Russia, could temper its outperformance.
"We still believe that palladium is likely to outperform platinum in the year ahead, although after the recent sharp rise in the former we think the potential for outperformance by palladium is now far more limited than it was," said Daniel Smith, an analyst at Standard Chartered.
"A strong auto sector in China and the U.S. should keep prices on an upward track, but additional sales of material from Russian stockpiles represent the main downside threat to prices," Smith said.