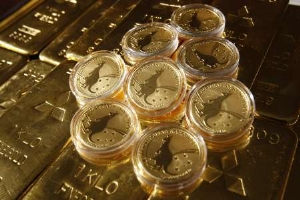 Thomas Geissler calls his gold coin dispensing automatic teller machines (ATMs) Gold to Go. If his plan to install SA's first such machine at Cape Town's Waterfront comes to fruition, he may find they live up to their name—but not in the way he intends.
His company Geissler C-B-T has already placed 11 such ATMs in Germany Italy, Spain, the United Arab Emirates and the U.S. Mr. Geissler said yesterday he hopes to install an ATM at the Waterfront this year.
The bombing of an Absa ATM yesterday morning in Lyttelton, a suburb of Centurion, highlights the challenge facing the German businessman.
The number of attacks on ATMs in SA rose 35% last year from 2009, an industry body, the South African Banking Risk Information Centre, said yesterday.
While Gauteng and Limpopo have borne the brunt of the robberies, the prospect of a newly minted gold-dispensing ATM may send a few criminals to the Mother City on a working holiday.
"You mark money in an ATM in the event of a bomb, but you can't do that with gold coins," said Alan Demby, chairman of the South African Gold Coin Exchange. "Thieves would just steal the coins and melt them down."
Geissler C-B-T yesterday installed two machines—on the ground and 124th floors of Dubai's Burj Khalifa, the world's tallest building—bringing its world total to 18, spokesman Joe Dreixler said.
The machines take cash or credit card payments and dispense a packaged gold coin in return. Prices, based on spot prices of gold, are updated every 10 minutes.
"We only accept locations with a very high security level—indoor locations only, not accessible by lorry, with security staff in the building," Mr. Dreixler said.