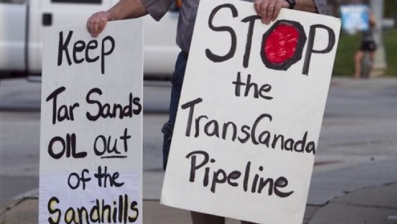 The decision to approve a pipeline to bring Canadian oil across America via pipeline to refineries in Texas has fallen to the State Department, which finds itself in a battle among states as it weighs the environmental impact against jobs and cheaper, friendlier oil.
TransCanada says its $13 billion project is a win-win for both countries and earned some stateside cheerleaders last week after it finalized deals to let U.S. producers in North Dakota and Montana use part of its proposed pipeline.
Under the agreement, about 65,000 barrels a day worth of their tar sands oil would glide from Alberta, Canada, through the Canadian firm's pipeline en route to facilities in Cushing, Okla. The so-called Keystone XL line is part of a broader pipeline system projected to eventually carry more than 1 million barrels a day across the two countries.
But objections have been building over the past several months in the wake of the BP oil spill last April in the Gulf of Mexico. The Sierra Club complained that the pipeline would indirectly contribute to global warming, and a Nebraska Republican senator complained it would cross a vital aquifer. And U.S. property owners have challenged Canadian firm TransCanada's attempts to build on their land.
The State Department, which has the authority to issue or deny a permit because it deals with a project crossing international borders, now faces the task of addressing these concerns as it determines whether to grant a permit to TransCanada, and how many hoops the company might have to jump through to get it.
After posting an environmental impact statement last spring, the department has received "thousands of comments," an official said. The State Department will decide whether to order an additional environmental study and decide whether the proposed pipeline is "in the national interest."