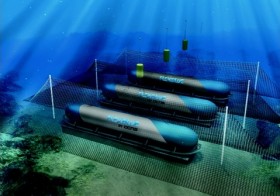 Nuclear power plants could be located underwater, as one of France's biggest shipbuilders is working with a large builder of nuclear plants to develop a reactor that could be placed up to 100 meters (328 feet) below the surface.
The concept, called Flexblue, is being developed by DCNS in concert with AREVA. DCNS is a shipbuilder that is known for many of the advanced ships in the French navy, including the nuclear submarines. AREVA is a large builder of nuclear power plants.
DCNS has been studying the Flexblue concept for two years, according to a press release. The idea is to build a reactor that can supply about 100 megawatts and be located offshore. The plants are similar to those used in nuclear submarines.
A regular nuclear power plant on land produces about 1,000 megawatts, which can supply big cities. But there is demand, the company says, for smaller, much cheaper reactors that could serve areas where infrastructure is not as advanced. The reactor has the ability to essentially drop into place without having to build extensive support structures.
DCNS says it will study the concept further for the next two years, and will work with AREVA, Electricité de France and the CEA, the French Atomic and Alternative Energies Commission, on the next phase of Flexblue development. This will include detailed reviews of technical and production options, market potential, nuclear proliferation issues, and safety of power plants on the seafloor. DCNS says it hopes to show that the safety of the Flexblue reactor is as good as that of its land-based cousins.