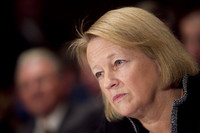 SEC Chairman Mary Schapiro
The U.S. Securities and Exchange Commission approved rules that will require issuers of asset-backed securities to disclose repurchase requests and completions related to the pooled assets.
The rules, part of the SEC's rulemaking under the Dodd-Frank financial-regulation overhaul, were approved by commissioners at a meeting in Washington today. Commissioners also approved a second set of rules requiring issuers to review assets underlying the securities as the agency moved to restore investor confidence in the ABS market.
The rule changes reflect claims that loan sellers and bond underwriters misrepresented the quality of the underlying credits and should be forced to repurchase debt.
Securitizers will be required disclose their history of requests and repurchases related to outstanding ABS in tables that investors can use to review and compare the securities.
A three-year phase-in period for the rules will give local officials plenty of time to prepare, and give the commission room to change the rules if needed, Schapiro said.
Republican Commissioners Kathleen Casey and Troy Paredes raised objections to the rules requiring reviews of ABS assets.
"It is not clear to me what is gained," said Casey, who cited the "reasonable assurance" standard for assuring the accuracy of disclosures in voting against the measure.
MBIA, in a lawsuit against Bank of America Corp., said its reviews found that 91% of defaulted or delinquent loans packaged into a set of bonds by the bank's Countrywide Financial Corp. unit had "material discrepancies from underwriting guidelines," such as borrower incomes, credit scores or debt-to- income ratios.
"I believe that a minimum standard better serves investors' interest," Schapiro said. "Investors need to know that issuers are taking steps to check that the assets in the pool are what the prospectus represents them to be."