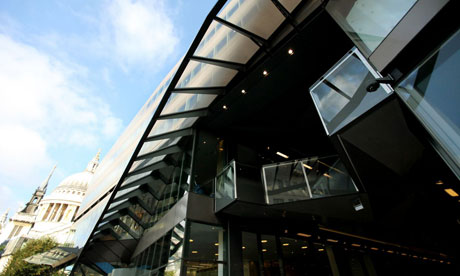 Europe's largest heat pump system came online today at London's latest shopping center One New Change, sparking hopes that shops and offices across the capital could soon deploy the low-carbon technology.
More than 150 meters beneath city shoppers' Jimmy Choos, some 60km of pipes are constantly transferring heat to and from an underground aquifer, providing a source of natural heating and cooling for the shopping center.
An intelligent control device enables the system to redirect heat from warmer to colder areas, improving the eight-floor building's energy efficiency.
The system is the product of three years' work between British developers Geothermal International and building owner Land Securities, and is expected to save the UK's largest commercial property company 350 tons of CO2 a year.
Land Securities also anticipates that reducing the building's carbon footprint by more than 10% will shave around £300,000 off its annual energy bills.
The building's green credentials are further swelled by solar-controlled glass, which reduces the need for air conditioning by limiting heat gain, and a series of so-called green roof planted terraces to encourage biodiversity.
One New Change's green technologies fits in with Land Securities' target of cutting carbon emissions from its properties by 30% over the next decade, a goal which has seen it conduct geothermal trials in a number of its properties during the last seven years.
Francis Salway, Land Securities' chief executive, said he hoped One New Change would inspire other companies to deploy similar sustainable building designs.
Flicking the switch on the system this morning, climate change minister Greg Barker lauded the project as an example of "British innovation at its best."
"Extracting warmth from the ground underneath London will help save on the building's heating bills and will cut carbon," he added.