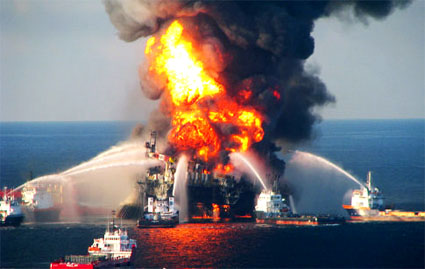 The U.S. Interior Department Wednesday set out the roles of the agencies replacing one abolished after the Gulf of Mexico oil disaster.
The old Minerals Management Service had "conflicting missions of promoting resource development, enforcing safety regulations and maximizing revenues from offshore operations," said Michael Bromwich, director of the Bureau of Ocean Energy Management, Regulation and Enforcement, which replaced the MMS.
Bromwich and Interior Secretary Ken Salazar said the new Bureau of Ocean Energy Management will be responsible for managing development of offshore resources "in an environmentally and economically responsible way," while the Bureau of Safety and Environmental Enforcement will enforce safety and environmental regulations.
Salazar and Bromwich also announced a permanent panel of scientific, engineering and technical experts to provide advice on improving offshore drilling safety, well containment and spill response. Tom Hunter, former head of the Sandia National Laboratory, will lead the body.
"We are moving ahead quickly and responsibly to establish the strong, independent oversight of offshore oil and gas drilling that is needed to ensure that companies are operating safely and in compliance with the law," Salazar said.