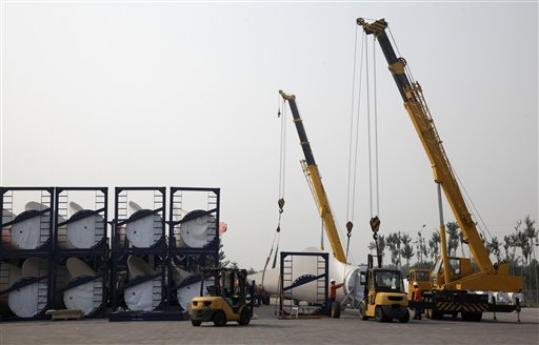 Workers assemble a wind turbine in Tianjin, China
In late 2009, President Barack Obama and his Chinese counterpart Hu Jintao announced an ambitious array of joint clean energy research projects touted as a mark of a maturing relationship and an alliance to fight climate change.
A year after Obama's visit to China, the envisioned partnership has largely evaporated. The U.S. has filed a complaint at the World Trade Organization against China's policies favoring its producers of wind and solar equipment. Cooperation in climate change talks has been rare.
The stakes are significant. Whether they can cooperate is likely to be key to restoring the world economy and forestalling climate change. But across many economic issues they are moving toward conflict.
"On the main issues, there is open hypocrisy on both sides," said Derek Scissors, an economist at the Heritage Foundation, a Washington think tank.
Beijing has rejected binding greenhouse gas limits and U.S. pressure to ease currency controls that critics say keep its yuan weak and swell China's trade surplus.
On the U.S. side, a listless economy and high unemployment make it harder for Washington to argue for cooperation.
In climate, the two governments trade accusations that they are blocking progress.
"At every high-level meeting, they promise more cooperation on clean energy. But they are really moving toward more conflict on energy," Scissors said. "In the U.S., you hear constant political complaints about how China is stealing clean energy jobs."
"There are more and more policies of protectionism that aren't in the headlines but are in the details of the local and national regulatory systems," said Jim McGregor, a senior consultant for APCO Worldwide and a former chairman of the American Chamber of Commerce in China. "It appears there is a debate behind closed doors on how much further to take reform."