Molycorp and potential rivals in rare earth elements (REEs) mining are competing for advantage as lawmakers seek to revive U.S. production of the minerals. The company wants federal loan guarantees to convert the elements into metals, alloys and magnets.
As U.S. officials and lawmakers are calling for development of domestic REE supplies, rival companies are lobbying Congress for legislation that would favor them, said mine owner James Kennedy.
It's a very jealous industry," said Kennedy, owner of Wings Enterprises, which is developing a mine in Missouri. "Nobody wants to see anything that would bring more production online" by competitors.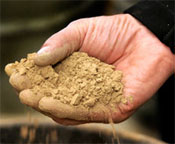 Total demand is likely to grow to 190,100 metric tons in 2014.
The Bloomberg Rare Earth Mineral Resources Index of 14 companies that mine rare-earth minerals more than doubled last year, and climbed 0.6% in the first nine trading days this year. The index fell 1.2% yesterday.
While pushing for loan guarantees, Molycorp says it opposes efforts backed by other companies to shorten environmental reviews that it has already completed.
The House passed a bill last year that may have aided Molycorp's efforts to secure as much as $280 million in guarantees from the Energy Department. The Senate never took up that measure.
Federal support should be targeted to smaller companies that have greater difficulty securing private financing, said Jeff Green, president of J.A. Green & Company LLC in Washington, who represents miners and users of the elements.
"There is tension in the industry," Green said in an interview.
Representative Mike Coffman, a Colorado Republican, said he plans to introduce legislation by the end of the month providing loan guarantees only to those companies that can't secure private backing.
"Without any qualifications, loan guarantees are a non- starter in the House," Coffman said in an interview Jan. 12.