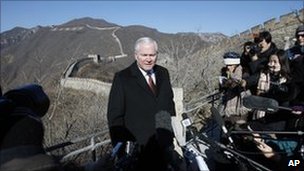 U.S. Defense Secretary Robert Gates has visited China's nuclear warfare headquarters, at the end of a four-day visit to try to mend relations between the two militaries.
"There was a discussion of nuclear strategy," including China's policy of not using nuclear weapons pre-emptively, Mr. Gates said.
Officials from both countries praised the visit as a success.
Beijing froze military ties last year because of a U.S. arms sales to Taiwan.
The rare view of China's nuclear and missile arsenal was given on a trip to the Second Artillery Corps of the People's Liberation Army (PLA) headquarters.
Both the U.S. and China have long-range missiles capable of reaching each other's shores, but both have said they do not intend to use them.
The visit by Mr. Gates to China was pronounced a success by both Beijing and Mr Gates.
"We believe exchanges with the U.S. in all kinds of fields are beneficial. They'll add to our mutual trust and eliminate misunderstanding and miscalculations," said Guan Youfei, deputy chief of the Defence Ministry's foreign affairs office.