There is a potentially big setup in precious metals sector along with the dollar which looks like it's about to unfold. Since mid-October 2010, gold started to show signs of distribution selling. Only a month later in November silver started warning us that some big players were taking some profits off the table also. Distribution selling is easy to spot on the charts. In short you will see heavy volume selling accompanied with strong moves to the downside.
Now if we look at the U.S. dollar chart, we see the exact opposite price action. We see sharp rallies during October and November of last year. It's normal to say that gold and silver move inverse to the Dollar so this price action makes perfect sense.
The interesting thing with the U.S. dollar is that in Nov-December it rallied breaking through a key resistance level and has been consolidating above support ever since. If this bullish pattern (bull flag) plays out, then it's just a matter of time before the dollar makes another strong rally upwards, which will put downward pressure on stocks and commodities.
Take a look at the charts below. . .
U.S. Dollar Daily Chart
The 50 period moving average has provided key support/resistance levels for the previous trends and if it holds true going forward then we are not far from another rally in the dollar.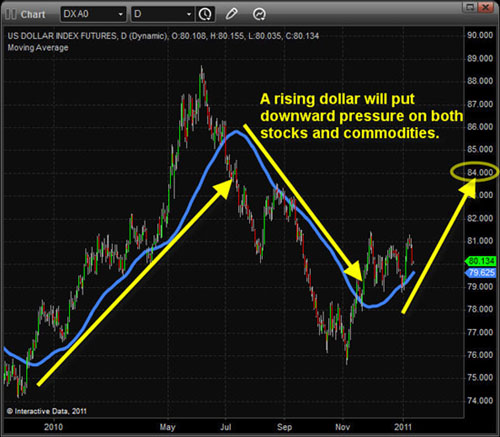 Gold Futures Daily Chart
Gold moves inverse to the dollar; so, if we get a higher dollar, look for gold to have a stair-step pattern lower.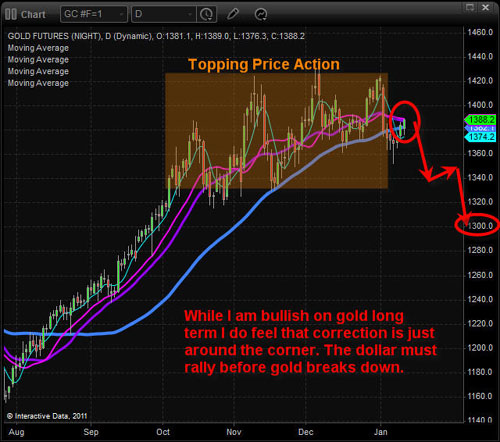 Silver Futures Daily Chart
Silver looks about ready to do the same thing as gold.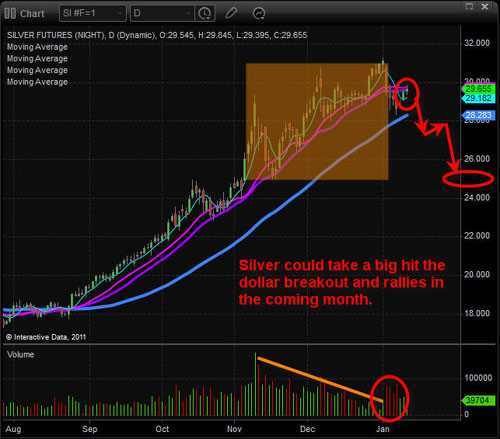 Precious Metals and Dollar Trading Conclusion
In short, we could see a major shift in momentum from up to down in both precious metals and the equities market. Keep in mind the market has a way of dragging out patterns/moves; so, while the chart looks bearish and I think a reversal is near, things could just chop around for another month or so before a definitive breakout is made. This is why you don't want to anticipate moves (pick a top). Currently, I am neutral on metals and the dollar waiting for a setup that must have clear risk/reward characteristics.
If you would like to receive these reports please join my free newsletter:
http://www.thegoldandoilguy.com/trade-money-emotions.php
Chris Vermeulen