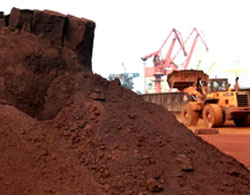 China on Wednesday defended its controls over lucrative rare earth elements (REEs) ahead of President Hu Jintao's U.S. visit next week, amid concern Beijing is abusing its market dominance.
Hu will talk with President Obama in Washington and stop in Chicago during the January 18–21 trip, vice foreign minister Cui Tiankai said.
The visit is seen as a crucial one for Sino-U.S. relations, after a number of disputes over the past year on a range of topics from the yuan to climate change to rare earths.
"I don't think this is an issue between China and the U.S., neither do I think this should become an issue," Cui said regarding REEs. "China accounts for one-third of the world's total reserves but now undertakes over 90% of global REE use, so shouldn't there be a fairer sharing of responsibility on this issue?"
Last month, Jon Huntsman, the U.S. ambassador to China, called on the Asian nation not to use REEs as a "trade weapon" after Japan said Beijing temporarily cut off exports in 2010.
China has denied any political motivation over rare earths but has since tightened control over them by cutting quotas and hiking export taxes, insisting this is due to environmental concerns.
"Rare earths involve sustainable use of resources and the issue of environmental protection," Cui said. "So. . .it is consistent with the objective needs of world development for China to adopt some measures in this regard, and it is consistent with the need for sustainable development and the protection of natural resources."
In Washington, Hu will deliver a speech to Obama and U.S. lawmakers and discuss the tense Korean-peninsula situation and the yuan exchange rate.
Hu will be the first Chinese leader to attend a U.S. state dinner since President Jiang Zemin in 1997.