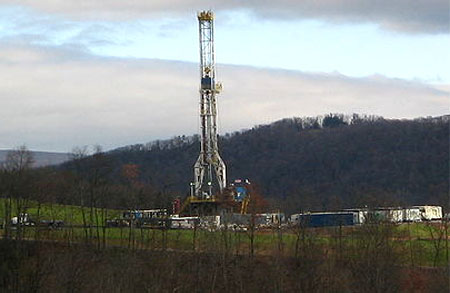 Independent natural-gas producers grappling with stubbornly low prices and bloated inventories find themselves trying to drill their way out of the current supply glut, even with weak demand for their products.
The seeming paradox of higher production in the face of ample supplies will continue through 2011 and may squeeze some smaller players, says Peter Bennett of consulting firm Bentek Energy.
"Production continues to climb and may hit a record in 2011 or 2012," Bennett told about 200 energy investors and company executives at the BMO Capital Markets Unconventional Gas Conference Tuesday. "We don't think you'll see a big drop off in production any time soon."
Companies that specialize in nat gas are getting much higher returns on the oil they find while drilling horizontal wells.
Oil prices have climbed to more than $90 a barrel, up handily in recent months, while natural-gas prices have remained stubbornly below $5 per million British thermal units.
That's expected to continue, with natural gas prices seen averaging from $4–$4.50/MMbtu in 2011, Bennett said.
"The quest for oil is motivating drilling activity," said Bennett.
BMO Capital analyst Jim Byrne said these price dynamics have made natural-gas firms more bullish on oil production.
By using lateral drilling techniques developed to produce shale gas, natural-gas firms are tapping into small pockets of oil that had been inaccessible until recently.
The trend has made U.S. fields that contain natural gas and oil much more desirable than traditional "dry gas" fields that contain plain old natural gas.
The more coveted regions right now include the Permian basin in west Texas, as well as the Eagle Ford region in south Texas and the Bakken region in North Dakota, Byrne said.