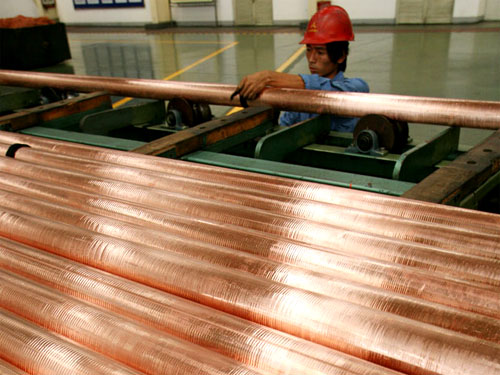 It was another record-breaking year for China's imports of all things copper.
This morning's preliminary trade report showed the Dragon's appetite was undiminished in December. Imports of refined copper, copper alloy, anode copper and copper products came in at 344,558 tons, boosting the full-year total to 4.29 million tons (Mt.)—very marginally exceeding the 2009 all-time record.
It's worth remembering that the previous year's total represented a step-change in Chinese copper imports. They had totaled just 2.64 Mt. in 2008.
There were some subtle changes in the mix of last year's imports with those of refined copper likely to have dropped by around 6%–7%, assuming that the December ratio breakdown was in keeping with previous months. The slack was taken up by higher imports of anode, which accounted for 9% of aggregate imports in the first 11 months of 2010, up from 5% over the course of 2009. But that shouldn't detract from the strength of China's demand for imported refined metal.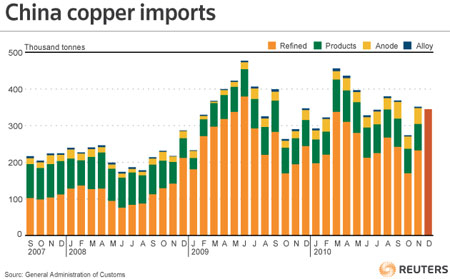 The spot arbitrage has been a pretty poor indicator of the monthly flow of refined metal in recent months. What then to expect for this year? The overwhelming consensus is that we're going to see another year of broken records when it comes to copper imports. Indeed, the assumption is hard-wired into the current high copper price.
The fact that the Chinese spot market is decidedly lukewarm right now merely strengthens the bulls' contention that China Copper Inc. will be forced to come back to the international market with renewed vigor once the current destocking phase ends. Think some time in the second quarter after the start of the Chinese New Year.
Certainly, there is no good reason to expect any significant falling-off in actual usage this year.