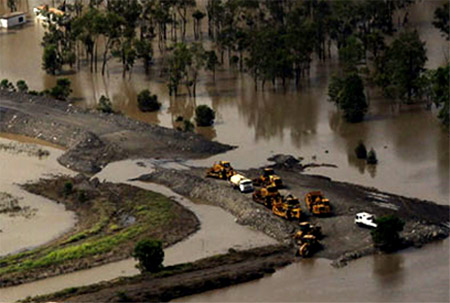 Australia's record floods are causing catastrophic damage to infrastructure in the state of Queensland and have forced 75% of its coal mines, which fuel Asia's steel mills, to grind to a halt, Queensland's premier said on Wednesday.
The worst flooding in decades has affected an area the size of Germany and France, leaving towns virtual islands in a muddy inland sea, devastated crops, cut major rail and road links to coal ports, slashed exports and forced up world coal prices.
"Seventy-five percent of our mines are currently not operation because of this flood," Premier Anna Bligh told local television. "So, that's a massive impact on the international markets and the international manufacturer of steel."
The Australian floods, which have cut off 22 towns and affected 200,000 people, have resulted from the La Nina weather phenomenon, which produces monsoonal rains over the Western Pacific and Southeast Asia.
The La Nina is expected to last another three months after it produced Australia's third-wettest year on record in 2010, the nationís weather bureau said on Wednesday.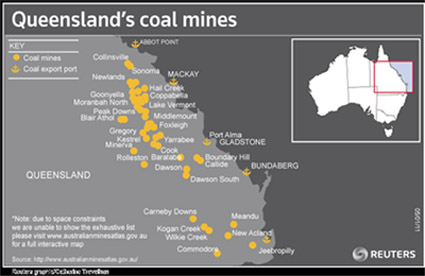 Some coal mines in Queensland, the world's biggest exporter of coal used in steelmaking, were resuming production although the outlook remained uncertain.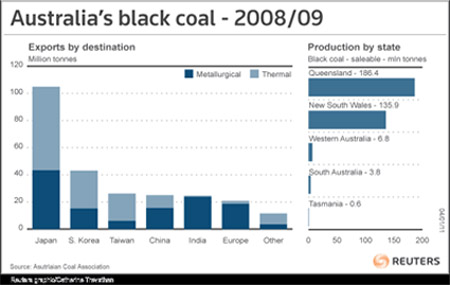 Coal mines with annual production capacity of more than 90 million tons have issued force majeure notices, which release them from delivery obligations.
The floods are having ramifications far beyond Queensland.
Australia accounts for more than half of global coking coal exports, which are vital to steelmakers, especially in Asian countries such as booming China.
The floods have hit mines that produced 35% of Australia's estimated 259 million tons of coal exports in 2009. An estimated US$1 billion has been lost in coal production, said the Queensland Resource Council.