This just in—non-hydropower renewable energy sources are now neck and neck with nuclear power and growing, while the output of the country's aging nuclear power plants is dropping off.
According to AltEnergy Magazine, the U.S Energy Information Administration has reported that during the first nine months of 2010 (the most recent period for which data is available) each of these two sources now provide for about 11% of the country's overall electricity needs.
Renewables—which include biomass/biofuels, geothermal, solar, water, and wind—accounted for 10.9% of domestic energy production and increased by 5.7% compared to the same period in 2009. The country's nuclear power plants, largely constructed from 1950–1970, accounted for 11.4% of domestic energy production but provided 0.5% less energy than a year earlier.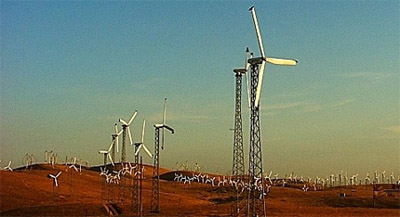 Renewables broke out as follows: Biomass and biofuels accounted for 51.95% of the country's renewable energy supply, hydropower for 31.50%, wind for 10.52%, geothermal for 4.65%, and solar for 1.38%. Compared to the first three-quarters of 2010 (against the same period in 2009), hydropower declined by 5.2% while geothermal expanded by 1.8%, solar grew by 2.4%, biomass/biofuels increased by 10.0%, and wind grew by 26.7%. All told, non-hydro renewables expanded by a combined 11.5%.