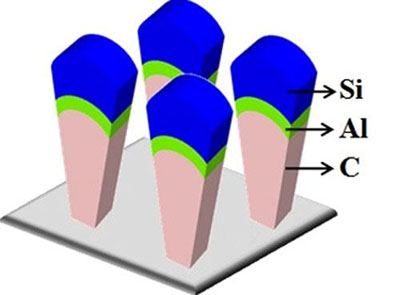 Charging a cell phone or laptop could take minutes instead of hours, thanks to a new nanomaterial.
The material is made up of what the researchers call nanoscoops—"cones" of carbon and aluminum with "scoops" of silicon on top. These nanoscoops would replace the graphite anode used in today's lithium-ion batteries, which are the most common type of batteries found in consumer electronics.
So far, the researchers from Rensselaer Polytechnic Institute (RPI) in New York have made a coin cell Li-ion battery (similar in size to those used in watches) with a nanoscoop anode and performed standard battery tests on the prototype. The result: The new battery charged 40–60 times faster than a typical Li-ion battery. (The battery was run down to zero and then charged again—referred to as a charge cycle—100 times and showed little sign of degradation.)
The researchers expect the battery technology to be commercial in a few years.
Next Steps
The next step will be to scale up the nanoscoops.
The amount of charge stored in a Li-ion battery is directly related to the mass of the electrode. And because these nanoscoops are so light, they need a lot of room to reach the necessary mass (approximately one gram for a typical cell phone). Because there are size constraints with consumer electronics, there isn't an option of making the anode larger horizontally.
Instead, the researchers will either grow longer nanoscoops to possibly increase the length from its current 170 nanometers to a few microns. Another technique would be to create more layers of nanoscoops.
Koratkar and his colleagues detailed their findings online Dec. 30 in the journal
Nano Letters.