United States Mint bullion sales experienced somewhat of a slowdown for the month of December 2010. As measured in ounces, the monthly totals for American Gold and Silver Eagles were the lowest of the year. Nonetheless, the annual total for Silver Eagles represented a new all-time record high.
During the month, the America the Beautiful Silver Bullion Coins made their debut, though the extremely low mintages have caused these coins to be treated more as numismatic items than bullion. The American Gold Buffalo and American Platinum Eagle were not available during the month. The former has been unavailable since inventories were depleted in September, while the latter has not been offered in bullion format since 2008.
The table summarizes the U.S. Mint's bullion coins sales for December 2010. The first number column represents the total sales for the month, while the second column represents sales for the full year ending December 31, 2010. This report includes bullion coin sales only, and does not include numismatic products.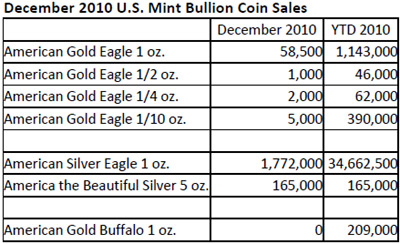 Across the available 1 oz. and fractional weight Gold Eagles, the U.S. Mint recorded sales of 60 Koz. for December. This is down by almost half from the previous month when sales had reached 112 Koz. It also ranks as the lowest monthly total of the year behind April 2010, when 60 Koz. were sold. For the full year, sales accounted for 1,220,500 ounces gold, short of last year's sales of 1,425,000 ounces.