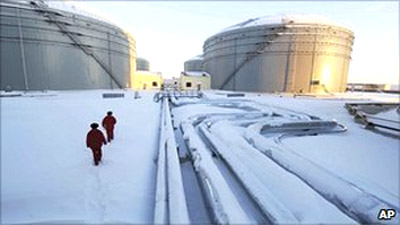 The first oil pipeline linking the world's biggest oil producer, Russia, and the world's biggest consumer of energy, China, has begun operating.
The pipeline, running between Siberia and the northeastern Chinese city of Daqing, will allow a rapid increase in oil exports between the two countries.
Until now, Russian oil has been transported to China by rail.
Concentrated in western Siberia, Russia's network of pipelines for oil exports has so far run toward Europe.
Russia is expected to export 15 million tons of oil through the new pipeline each year during the next two decades—about 300,000 barrels a day.
New Phase
The project cost $25 billion ($16B) and was partly financed by Chinese loans.
Russia overtook Saudi Arabia as the world's largest oil producer in 2009. And China surpassed the U.S. as the world's largest consumer of energy last year.
"The operation of the China-Russia crude oil pipeline is the start of a new phase in China-Russia energy cooperation," said Yao Wei, general manager of Pipeline Branch of Petro China, as he pushed a button near the Russia-China border to start the flow of oil.
Russian Prime Minister Vladimir Putin has said in the past that the pipeline would help Russia diversify its exports.
A second stage of construction on the pipeline is due to be finished by 2014. It will then span a distance of about 4,700 km. (2,900 miles).