Exploratory drilling off Israel's northern coast this week has confirmed the existence of a major natural gas field that is one of the world's largest offshore gas finds in 10 years.
Noble Energy and several Israeli partner companies said the Leviathan field, whose existence was predicted months ago, has at least 16 Tcf of gas likely worth tens of billions of dollars.
"If it acts. . .responsibly, Israel can enjoy not only the benefit of using the gas, but it can also turn into a gas supplier in the Mediterranean region," said Infrastructure Minister Uzi Landau. "The large reserves of natural gas will enable Israel's citizens to enjoy. . .clean and inexpensive electricity, as well as the expected profits for the state."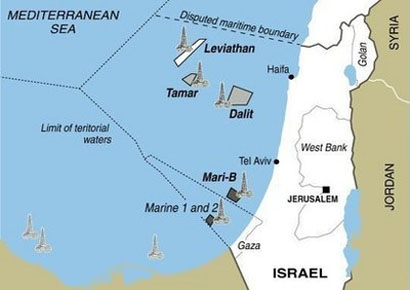 The find means that Israel, with a long history of dependence on foreign energy and hostility and boycotts from many of the biggest energy powers, could find itself in a much more advantageous position in the coming decade.
But the find has been accompanied by a heated debate over how much in taxes and royalties Israel will charge. A state-appointed committee is planning to recommend substantially increased profit taxes, opposed by the companies and some on the political right.
Noble's JV partners Delek Energy and Avner Oil Exploration say the taxes could make the project prohibitively expensive. 'The gas may stay in the ground because we won't succeed in obtaining from banks. . .the tens of billions of shekels to develop the reservoir.'
This new find could impel neighboring countries, including Cyprus, Lebanon and Syria, to explore and possibly develop their potential gas fields. Israel needs to move quickly to be the first to export its gas. Delek estimates that if it moves aggressively, it could begin producing gas from Leviathan in five to six years.