Equipment used to manufacture photovoltaic (solar) cells will grow 34% in 2011, according to the
Opportunities in the Solar Market for Crystalline and Thin-Film Solar Cells
report published by the Information Network.
A massive increase in solar production with sales increasing more than 100% in 2010 depleted inventory at a rapid rate. Combined with a surge of new solar companies entering the market with thin-film-based cells in previous years, supply clearly exceeded demand, and inventory grew from an average of 71 days in 2008 to 90 days in 2009 (see chart below).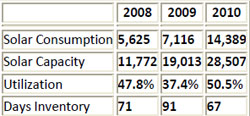 The low utilization rate of 37.4% in 2009 was responsible for only the 34% gain in equipment sales in 2010, even though new additional capacity increased utilization to 50.5% and reduced inventory to 67 days on average for all of 2010.
Oerlikon dropped from number 5 in 2009 to number 10 in 2010. The company reached 10% efficiency on its technology for amorphous silicon cells, which has the earmarks of raising market share for 2011.
Applied Materials held on to its number 1 ranking in 2010, followed by GT Solar, which rose from the number 4 spot in 2009. The company, which makes DSS crystallization furnaces, took advantage of the ramp in polycrystalline capacity in 2010, which increased to 206,000 metric tons. The following table shows the 2010 top-10 ranking.