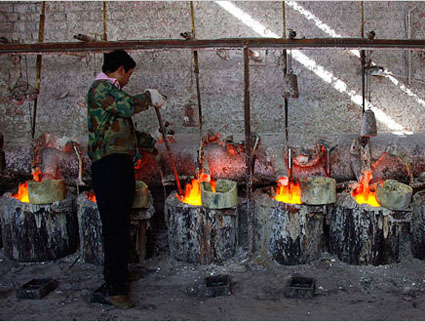 China's commerce ministry announced a steep reduction in export quotas for rare earth elements (REEs) in early 2011, a move that further threatens manufacturers already struggling with short supplies and soaring prices.
The early 2011 reduction—a 35% drop in tonnage from H110—is the latest in a series of measures by Beijing that has gradually curtailed much of the world's supply of REEs.
In a follow-up statement on its website, the ministry said it had not decided what the total export quotas would be for all of 2011. However, it did say companies shouldn't make guesses about the total export quotas for 2011 based on the initial reductions issued earlier in the day.
"We will be considering the production of REEs in China, domestic demand and sustainable development needs to determine" the full quotas for the entire year, it stated.
Earlier this month, China's finance ministry raised export taxes from 15%–20% for some of the most crucial REEs. It also extended taxes to exports of some rare earth alloys that previously were not taxed.
China gradually reduced its annual tonnage of export quotas from 2006–2009, then cut that number by more than half in H210.
Rule changes for export quotas have reduced the availability of supplies leaving China. Until now, the quotas mostly covered alloys and oxides with an REE content of at least 50%.
Next year, exports of some additional alloys will face restrictions as well, which will have the effect of tightening quotas by 6%.
The ministry provided no reasons for its reduction in initial export quotas for next year, and a spokesman declined to elaborate. White House trade officials have begun an investigation into whether China's export restrictions violate WTO rules, which prohibit export quotas and/or tariffs except for environmental protection and national security.