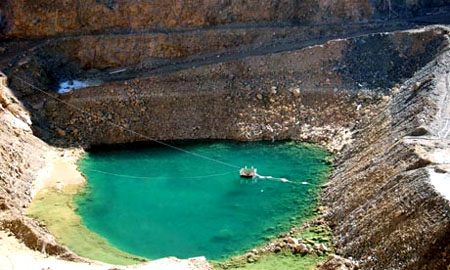 This deep pit in the Mojave Desert could hold the key to America challenging China's 21st-century technological domination.
At the bottom of the vast site, beneath 6m of bright emerald-green water, runs a rich seam of ores that are rapidly emerging as the building blocks of the hi-tech future.
The mine is the largest known deposit of rare earth elements (REEs) outside China. Eight years ago, it was shut down in a tacit admission that the U.S. was ceding the market to China. Now, it's secured final approval to restart operations.
"We will probably never be the largest [mine] in the world again, but we do think we will be a very significant supplier," said Molycorp Minerals CEO Mark Smith, which owns the mine.
A December 15 DOE report warned that, in the absence of such mines, America risks losing control over production of a host of technologies. . ."
China's total domination of these strategic metals became impossible to ignore in October when it cut exports more than 70% over 2009, disrupting manufacturing in Japan, Europe and the U.S. Prices of even the cheapest of the 17 REEs rose 40%.
Now America is also desperate to find alternatives. "Reopening domestic production is an important part of a globalized supply chain," said David Sandalow, DOE's assistant secretary for international affairs.
For Smith, the official recognition of the strategic importance of the metals was a long time coming. "I've been going out to Washington DC every other week for about two years trying to tell the rare earths story," he said.
They are listening in Washington now. At the 15 December seminar at the Center for Strategic and International Studies, one PowerPoint presentation lingered on a slide that showed only the Chinese flag. The room filled with nervous laughter.