Main 2010 energy trends were predictable at the year's start, including renewable energy's growing reliance on government assistance following the financial crisis, U.S. greenhouse gas legislation, emphasis on green jobs and competition with China, delayed arrival of cellulosic biofuels and anticipation surrounding the product launches of the first mass-market electric vehicles.
The year in energy was dominated by two transformative events: 1.) The Deepwater Horizon accident multimillion-barrel gusher that ensued; and 2.) The less spectacular, but no less profound, shale gas revolution.
The Deepwater Horizon disaster has seen such extensive coverage, but we still don't know how much oil saturated the Gulf of Mexico. All we know is:
The GOM is Dying
.
The shale gas revolution is completely different, though it, too, has arguably been tainted by BP's disaster. As it unlocks a resource that has converted the U.S. natural gas supply outlook from one of scarcity to abundance for decades, the gas industry is subject to environmental-impact reviews of the drilling techniques that made this turnabout possible.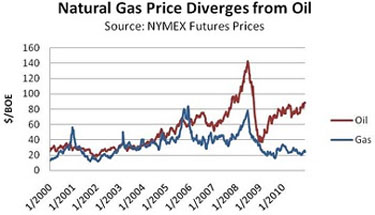 The impact of cheap natural gas hasn't sunk in yet; the main market price for gas—Henry Hub futures—doesn't have much relevance for the average consumer. Residential gas customers don't buy their gas in the million-BTU (MMBTU) lots in which the futures contract is denominated; we buy gas in therms—one-tenth of a MMBtu. By the time we see our bills, many handling and distribution fees and markups have been added. But when you compare the price barrels of oil equivalent (BOE) to the price of WTI crude, the remarkable divergence of the last two years becomes obvious, as shown in the chart above.
Cheap energy has always been a key to growth and right now, gas is the only energy source offering that without requiring an enormous upfront investment.