They're gold diggers of the new millennium, sifting for fortune amid soaring prices for the yellow metal. But today's gutsy investors are panning for gold in very different ways.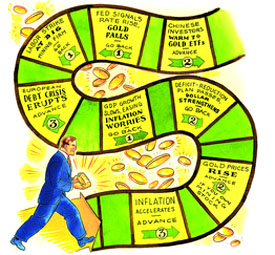 John Paulson is buying shares of some of the biggest mining and exploration companies, part of a more than $10 billion investment in gold. He also owns select smaller miners.
Shares of mining companies can act as a leveraged bet on gold, Paulson has argued. If gold prices do well, the miners will do even better—potentially 2x–3x two or three times the price of gold, he has told investors. So far, Paulson's strategy is working. His gold fund was up 33% in 2010 through November, topping the rise in gold futures.
Thomas Kaplan is a low-profile billionaire making a bigger wager on gold than almost any investor. Through Tigris Financial Group, a firm that invests his family's money Kaplan has acquired stakes in mining properties on five continents; his gold holdings are valued at more than $2 billion.
He also controls as much as 30% of junior miners, including many that have yet to produce. "These companies are sitting on valuable assets, Kaplan argues, providing "the greatest leverage to a bull market."
Holding gold oneself is a better move, Passport Capital's John Burbank. He stores his gold in a UBS-operated vault in Zurich. Burbank argues storage costs are lower than ETF expenses, as he believes a squeeze may develop that could benefit bullion holders at the expense of gold contracts and shares.
Greenlight Capital's David Einhorn argues physical ownership is the best strategy, and he's a fan of ETFs that own gold miners. His firm owns about 2% of Market Vectors Gold Miners ETF, which tracks gold-mining shares.