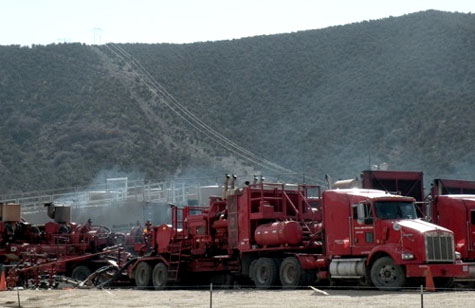 Last week, the state of New York was considering a ban on the controversial practice of hydraulic fracturing, or "fracking," for natural gas exploration. Over the weekend, Governor David Patterson signed a seven-month moratorium on the most potentially destructive methods of horizontal fracturing.
Patterson vetoed a bill the legislature passed that would've suspended all new natural gas permits through May 15, 2011. While the moratorium he issued does last longer than the legislature's proposed ban, extending until July 1, 2011, it still allows continued permitting for lower-volume vertical wells.
Drilling industry insiders consider Patterson's decision a compromise, saying a full ban would threaten jobs and economic development and claiming the vetoed legislation was "replete with unintended and dire consequences" for the region. There is concern that the drilling industry will sidestep the moratorium and turn a vertically drilled well horizontal after a permit is issued.
The timing of this decision coincides with new proposals on fracking from the Delaware River Basin Commission, the regional regulatory agency made up of the Governors of Pennsylvania, Delaware, New York and New Jersey. The agency's
new rules
have been challenged by Patterson and others for conflicting with state regulations, but the commission insists that state regulations would take precedent if they were more stringent than those issued by the DRBC. Most agree that more comprehensive studies are necessary before regulatory rules are issued.
For now, the New York-moratorium decision will, basically, pass responsibility to incoming Governor-Elect Andrew Cuomo who, eventually, will have to issue another ruling as to whether horizontal hydraulic fracturing can continue post-moratorium. Currently, there is no indication as to where he stands on the issue.