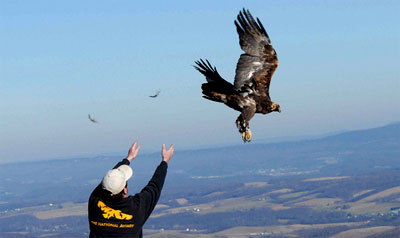 Fears that whirling wind turbines could slaughter protected golden eagles have halted progress on a key piece of the federal government's push to increase renewable energy on public lands, stalling plans for billions of dollars in wind farm developments.
The U.S. Bureau of Land Management suspended issuing wind permits on public land indefinitely this summer after wildlife officials invoked a decades-old law for protecting eagles.
The restriction has stymied efforts to "fast-track" approvals for four of the seven most promising wind U.S. energy proposals.
Now, these and other projects appear unlikely to make the year-end deadline to potentially qualify for hundreds of millions of dollars in stimulus funds. If extensions aren't granted in the lame duck session of Congress, the future of many of these plans could be in doubt.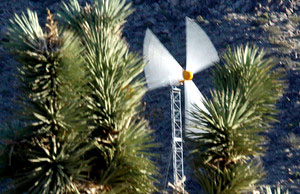 "[Companies] are waiting to know the criteria to get a permit," said Larry LaPre, a wildlife biologist for BLM's California desert district, of the companies hoping federal agencies will begin permitting again soon. LaPre said he expects it to be "at least a year or longer" before permitting resumes.
Golden eagles are the latest roadblock to establishing wind farms on federally owned land, already an expensive process plagued by years of bureaucratic delay. The projects also have been untracked by other wildlife issues, a sluggish economy and objections by defense and aviation authorities that wind turbines interfere with the country's aged radar system.
The July eagle memo obtained by the AP directed BLM staff not to approve any more permits until companies submit protection plans. Federal officials said they do not know when permitting will resume nor whether the stimulus deadline will be met.
Fish and Wildlife Assistant Secretary Tom Strickland said the department is working on the issue but "has no intention of shortcutting a thorough environmental review process."