I noted the following in a 'Words from the Wise' review:
"Will we perhaps look back at these assets [referring to bonds and silver] a year from now and see one of the worst and one of the top performers, respectively for 2010? A long silver, short Treasuries trade makes perfect sense to me."
How has this "Trade of the Year" performed since the beginning of 2010? Let's turn to the scoreboard: Year-to-date returns show silver (+68.1%) clobbering 10-year Treasury Notes (+5.6%). The relative strength of silver versus the price of Treasuries is shown in the bottom portion of the below chart. A rising trendline indicates silver outperforming Treasuries; a declining line shows the opposite. After a ranging ratio for a few months, silver has turned the tables from late August onward.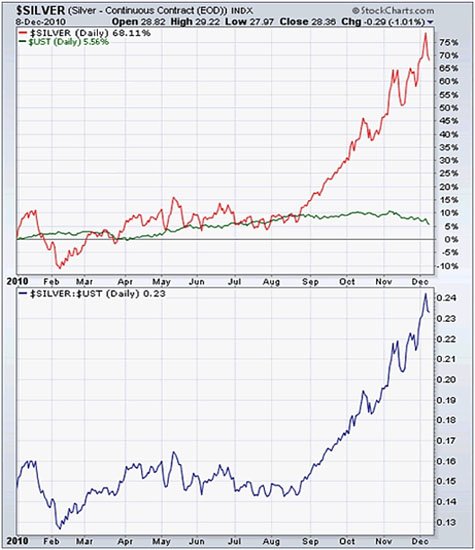 If you're wondering whether this is all theory, the trade I actually recommended in practice at the time of mooting the idea opted for a somewhat more aggressive strategy, buying leveraged (2x) ETFs, namely ProShares Ultra Silver ETF (AGQ) and ProShares UltraShort +20-Year Treasury Bond ETF (TBT). The graph below shows the geared-trade results, reflecting AGQ up 140.3% and TBT down 23.4% since the start of 2010.
Is it too late to still do this trade? Probably not, but given the strong rise in yields over the past few days and earlier surge in the silver price, it is advisable to build the position in increments whenever markets correct.
I will be suggesting a fresh trade of the year in early 2011. Below you'll see how various asset classes have performed in 2010 YTD. Silver's close to the top, so my new trade may beógo long of a laggard and short of an instrument in the top section (or perhaps something not even on this chart).