Over the past two weeks, we have seen market sentiment change three times from extreme bullish to bearish and back to bullish as of today. Normally, we don't see the herd (average Joe) switch trading directions this quickly. Over the past 10 years, I've found that the average time for the herd to reach an extreme bullish or bearish bias takes from four to six weeks. It is this herd mentality that makes for some excellent trend-trading opportunities. But with the quantitative easing, thinner traded market and lack of trading participants (smaller herd), I find everyone is ready to change directions at the drop of a hat.
The old school traders/investors who don't use real-time data or charts, and who dabbled in stock picks here and there, have mostly exited the trading arena from frustration or losing too much money. This group accounted for a decent chuck of liquidity in the market and was the slowest of the herd to change directions.
The new school, today's smaller herd is much more aggressive and quicker to act on market gyrations. I think this is because the only people left in the market are those who make a living pulling money from the market and those who feel they are really close to mastering the stock market. It is these individuals who are using trading platforms with real-time data, charts and scanners to help get a pulse on the market so they can change directions when the big boys do. I feel this is the reason the market is able to turn on a dime one week to another over the past eight months. The easy prey (novice and delayed-data traders) are few and far between, and the fight to take money for other educated traders seems to be getting a little more interesting to say the least.
Anyway, enough about the herd already. . .
It's been an interesting week thus far with stocks and commodities. The week started with a large gap up only for strong selling volume to step in and reverse direction the following day. It is this negative price action that starts to put fear into the market triggering a downward thrust in the market. During an uptrend like we are in now, I look for these bearish chart patterns to form as they tend to trigger more selling the following days, which cleanses the market of weak positions. Once a certain level of traders have been shaken out of their positions and are entering positions to take advantage of a falling market, that's when we get the next rally—catching the majority of traders off guard as they panic to buy back their short positions. It's this short covering that sparks a strong multiday rally and kicks off the new leg up in the market.
Currently, we are getting some mixed signals. Market sentiment is the most bullish it has been since 2007, just a little higher than the Jan and March highs this year. This makes me step back and think twice about taking any sizeable long positions. Any day now, the market could roll over. Another bearish signal is the fact that we just had a very strong reversal day for stocks and metals to the down side. That typically leads to more selling. But if we look at the positive side of things, the trend is still up, this is typically a strong time for stocks as we go into Christmas/Holiday season and the market breadth is really strong with the number of stocks hitting new highs has really taking off.
SP500—Daily Chart
Below you can see the reversal candles along with short-term and intermediate support levels. Although the market sentiment is screaming a correction is near, we must realize that sentiment can remain at this level for an extended period while the market continues to trend; this is one of the reasons we say, "The Trend Is Our Friend."
I am hoping for a pullback and would like to see market sentiment shift enough on an intraday basis to give us a low-risk entry point.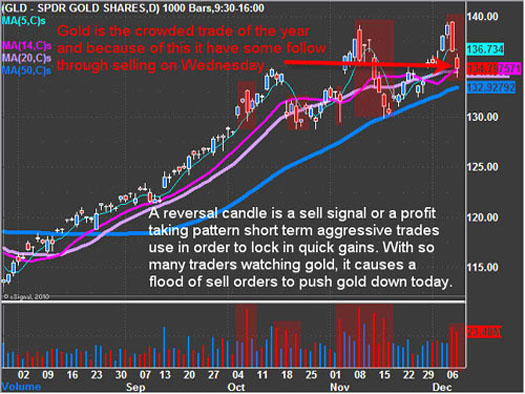 Gold—Daily Chart
A reversal candle is seen as a sell signal or a profit-taking pattern. Short-term aggressive trades use these to lock in quick price movements. With so many traders watching gold, it caused a flood of sell orders to push gold down today.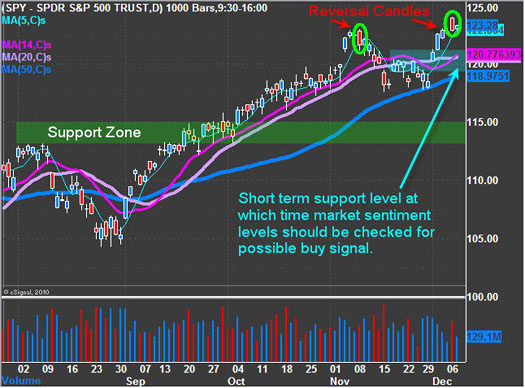 Midweek Conclusion
Each time we see some decent selling in the market, it gets bought back up. Today was another perfect example as we had an early morning selloff, then a light volume rally for the second half of the session and a, end-of-day short squeeze during the last 30 minutes. Gold has pulled back to the first short-term support level. Because of the large following in gold, I would like to see if there would be another day of follow-through selling before possibly looking to take a trade.
If you would like to get my daily pre-market trading videos, intraday updates, chart analysis and trades just subscribe to my trading service here:
www.TheGoldAndOilGuy.com
.
Chris Vermeulen