Our reader survey results are back and some interesting trends have developed. This is not a scientific survey but rather a survey to see what stories, markets and trends our readers follow. This past year, rare earth elements (REEs) have skyrocketed due to China's trade policies. How have these events affected what our readers' value and where they have invested?
Many factors have played into the meteoric rise of REEs, the main catalyst for which—China's export policies. Chinese officials, in an attempt to discourage illegal REE trading and to reduce the environmental impact of REE mining, slashed export quotas over 70%. The news cycle picked up this story and, as a result, governments and international electronics companies scrambled for answers. As the world caught on to the importance of REEs and China's monopoly, which holds over 95% of world supply, a major political event poured gasoline on the fire.
In what seemed to analysts a political maneuver, Chinese customs officials stopped all shipments of REEs to Japan. The unofficial embargo brought even more attention to this market—investors started pumping money into junior miners and the price of many of the 17 elements that comprise REEs shot through the roof.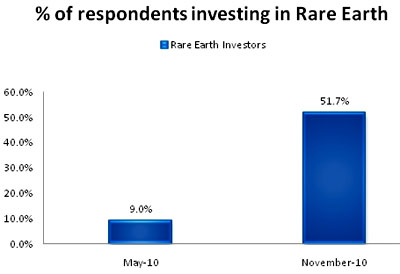 In May 2010, only 9% of survey respondents claimed to be invested in the REE market. Our latest survey shows this number has jumped to 51.7%.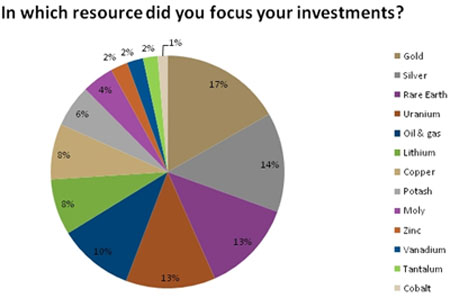 The outlook for REEs in 2011 is strong. The continuance of China's export policies will keep the supply and demand fundamentals strong. This factor, coupled with the lack of new mining operations will hold supply of the metals in a constant and predictable level. Watch for another strong year for rare earth elements.