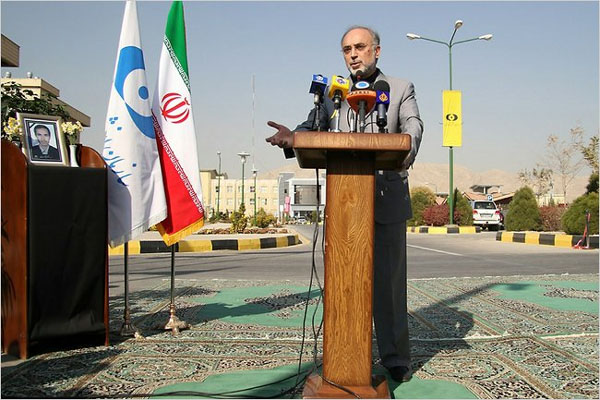 Iran on Sunday claimed for the first time to have used domestically mined uranium ore to make the material needed for uranium enrichment. It called the step a major advance in its atomic program, sending a defiant message before a new round of talks on Iran's suspect nuclear activities.
Western experts said the progress appeared to be more symbolic than substantive and did not bear immediately on whether Iran could accelerate its efforts at enriching uranium, which can fuel either reactors or atom bombs.
But Iran's successful processing of uranium ore from a domestically mined source, which it has been working on for years, suggested the Iranians had found a way to bypass
United Nations
sanctions that ban them from importing raw uranium.
The announcement also reflected Iran's intention to show it remains undaunted in its pursuit of nuclear capabilities despite some significant recent setbacks.
In Tehran on Sunday, Ali Akbar Salehi, the head of
Iran's nuclear program
, said the country had succeeded for the first time in domestically producing uranium concentrate from uranium ore mined inside Iran. The concentrate, known as yellowcake, is a precursor to the uranium fed into spinning centrifuges for enrichment.
"This means that Iran has become self-sufficient in the entire fuel cycle," Mr. Salehi declared. He added: "we will be taking part in the negotiations with strength and power."
Mr. Salehi said the delivery was evidence that last week's mysterious bombings of the Iranian scientists would not slow the country's progress. One of the scientists died and the other was wounded.
The two days of talks that begin Monday in Geneva are the first on Iran's nuclear program in more than a year. Six world powers—the United States, Russia, China, France, Britain and Germany—are seeking reassurances that Tehran's ambitions are peaceful.