Imperial Oil managers thought they'd discovered a new Northwest Passage when they decided to send more than 200 giant factory building blocks from South Korea to Canada via Idaho.
The largest of the massive modules, built as pieces of an $8 billion project in Alberta's oil sands, are wide as two-lane highways, taller than freeway overpasses and two-thirds the length of football fields. Imperial planned to ship the behemoths to Vancouver, barge them upriver and unload them in Lewiston, Idaho.
For $100 million or so, Imperial intended to relocate overhead wires in Idaho and Montana, build dozens of highway pullouts and haul each load in the dead of night to Canada. The route, on winding highways free of overpasses, would avoid a much longer journey through the Panama Canal, the Great Lakes and Minnesota.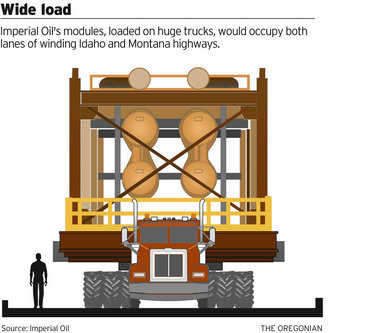 But Imperial finds its initial 34 shipments stranded in Lewiston, lacking state highway permits to complete the journey. Environmentalists are seizing the chance to rally U.S. opposition to Alberta's oil sands, where miners wrest tarry deposits from sand and send about 780,000 barrels of petroleum a day to the United States.
Imperial Oil remains determined. "Our bottom line is to move these modules safely and efficiently with a minimum of impacts on the people that we pass," said Pius Rolheiser, a spokesman at Imperial's Calgary headquarters.
The enormous scale of just one tentacle of Alberta's oil-sands operations illustrates the lengths to which companies will go to procure oil after depleting reserves easily accessed by conventional drilling.
Environmentalists oppose Imperial's mega loads on two main grounds: the "permanent industrialization" of Idaho and Montana scenic corridors, and the impacts on climate change.
Opponents are well organized with legal backing, and Imperial's permit applications are mired in a thicket of state court decisions and bureaucracy.