The Silver Institute reported this week that the U.S. American Eagle Silver Bullion coin program has already posted another record year with a month to go. As of Nov. 24, the date of the press release, over 32 million of the U.S. Mint's 1 oz. coins had been sold, easily exceeding last year's record of 28 million coins sold. Should the current pace continue, the Institute believes sales will surpass 35M coins by year's end.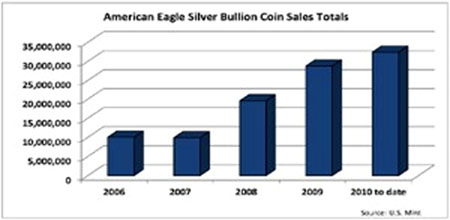 As this graph illustrates, sales of American Eagle Silver Bullion coins increased 223% over the past five years as investors opted to hold physical assets as a store of value separate from deposits or equities. According to Coin Update News, the U.S. Mint was so overloaded with orders from Nov. 19–21 that the website collapsed and several thousand orders were lost.
Minting of silver coins is expected to rise by some 23% globally this year to an all-time high. A Bloomberg article reports that Royal Canadian Mint sales of silver Maple Leaf bullion are up 50% over those for 2009.
Year to date, silver has risen by about 57%, while gold has gained about 25%. Investor demand this year could top 210 million ounces according to an
FT
article, representing almost a quarter of the total supply of the metal. Even the Austrian Mint is reporting doubling demand after producing silver Vienna Philharmonic coins at a record pace this year.
Expectations among some quarters, notably GFMS Executive Chairman Philip Klapwijk, are that silver prices will be even higher next year. But as with any trend, the secret is getting in at the bottom and off at the top—assuming you're looking to make some financial gain out of it. Klapwijk expects the silver price to exceed $30/oz. next year.