Just before the weekend, we puzzled over the prospects of an intermediate top in gold prices due to the seeming formation of a head-and-shoulders pattern.
Naturally, all this cogitation leads silver traders and investors to wonder what would happen to white metal prices if gold breaks down. Silver, after all, is gold's fellow traveler, though the two metals don't move in lock step with one another.
The metal's different drumbeats became distinctly audible over the past couple of months as the gold/silver ratio plummeted. Silver gained ground as gold's price multiple tumbled from 66x to 50x.
Silver not only got ahead of gold this fall, it also got ahead of itself. Silver's current price—basis the London fix—is now 36% above its 200-day moving average. Silver, compared to gold, seems much more overextended, as the yellow metal is just 11% above its 10-month average price.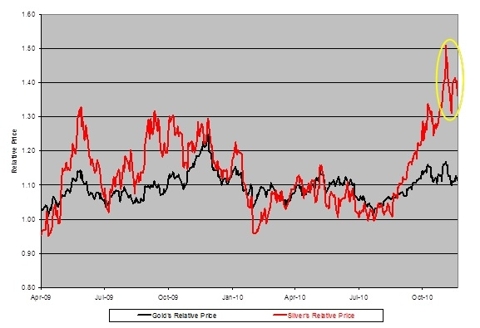 While there's nothing
wrong
with a commodity's price running ahead of its moving averages, what we've seen is significant selling in the wake of peaks in silver's relative price. Since April 2009, silver prices have fallen an average of 5.1% within a week of such crests.
Now, there's no head-and-shoulders top forming in silver's price chart. There is one shaping up, however, in the metal's Relative Strength Index graph. Call that a stealth H&S pattern.
Investors chary of futures ought to look at the closing price chart for the iShares Silver Trust for guidance. There they'll see the makings of a double top, which, if completed, could set up a sell-off to the ETF's October reaction low near $22.70.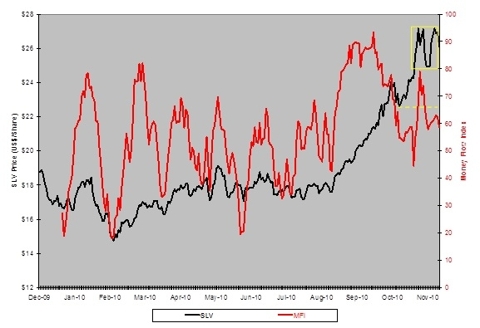 If silver and gold follow the same timeline, we should know if a top's in by the first week in December. That makes the next few trading days critically important for intermediate-term traders and investors.