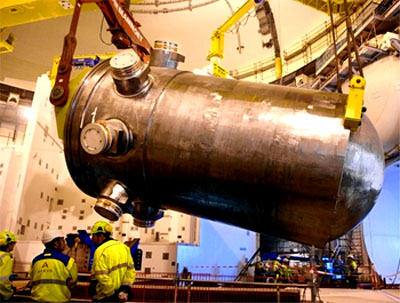 France is scrambling to regain its position as world nuclear-power leader. Once the foremost supplier of nuclear technology, the country has seen its worldwide share of new nuclear-energy projects plunge. If it doesn't find a way to reverse that trend, France's nuclear industry could fail to profit from an expected wave of nuclear-plant construction.
In an attempt to restore its companies to prominence, the French government has reorganized the nation's nuclear sector. Among other things, Électricité de France SA, or EDF, has been given a leading role in bidding on nuclear projects abroad and has been told to boost its stake in state-owned Areva, the country's sole builder of nuclear reactors. But critics contend the reorganization is unnecessary and possibly counterproductive—they say the real problem is that Areva's main reactor offering, one of the most advanced on the market, is too expensive—a problem Areva already has begun to address by forming a JV with Mitsubishi to develop a smaller, cheaper reactor. Tying Areva more closely to EDF not only doesn't solve that problem, critics say, but also might create others.
The blow that finally prompted the government to act was a failed bid to build and operate four new reactors in Abu Dhabi. Areva initially competed for the project in a consortium with GDF Suez and Total. Abu Dhabi officials insisted that EDF be included due to its extensive experience in operating nuclear plants. France installed EDF as project leader, but the contract ultimately went to Korea Electric Power anyway.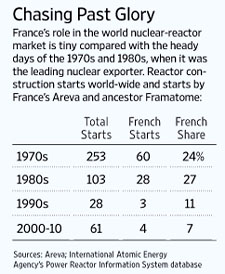 The government also plans to sell 15% of Areva to outside investors to give the company more cash to work with. Whether all of this will help France regain its nuclear leadership is an open question.