California is being left behind in the new Gold Rush. Despite sky-high prices and the state's rich gold legacy, the industry here is mostly dormant. California trails the leading gold-producing state, Nevada, by a wide margin.
A California revival is hardly imminent.
Companies trying to reopen old mines in Grass Valley and near Sutter Creek have slogged through years of red tape, and there are no guarantees of success. The Sutter Creek plan is at least a year away and Grass Valley is several years from reopening.
Standing in the way is scarcity of capital and strict environmental standards.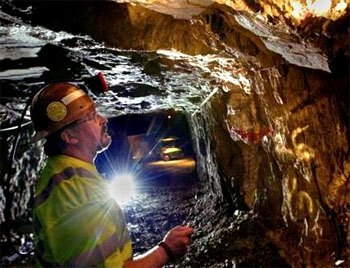 Old mining towns embrace their Gold Rush roots but have become havens for tourists and retirees. Some residents aren't convinced that blasting through rock is compatible with boutiques or bed-and-breakfasts.
But the allure of gold could bring about more mining. Sutter Gold Mining, which wants to reopen a mine that runs alongside Highway 49 near Sutter Creek, said it's sitting on at least 223 Koz., maybe even 680 Koz.
At today's prices, that's a bounty of $300–$900 million. Company executives say the price boom isn't a fluke.
"The pieces seem to be in place. . .for continued strength in gold prices," said CFO Robert Hutmacher.
The question is whether California can cash in.
There is opposition. Critics say the project would create environmental hazards.
"We feel the real gold is the wonderful environment," said Ralph Silberstein, a software consultant and president of CLAIM, or Citizens Looking at Impacts of Mining.
Similar issues swirl around the Sutter Gold plan.
Some residents worry about potential noise and traffic problems. They complain that a resumption of mining would mean the end of the daily tours of Sutter Gold's mine, which is one of the area's top tourist attractions.