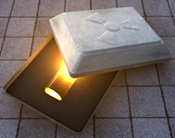 Earlier this month, Global X Funds of New York announced plans for two ETFs—one for gold stocks, the other, uranium. Initially, CEO Bruno del Ama figured he knew which would capture the market's attention. After all, gold prices have surged in recent months. As it transpired, he guessed wrong. Global X's Uranium ETF was an immediate hit when it went on sale Nov. 9, with early trading volume outpacing Global X's gold ETF by 5:1. "I'm in shock, to be honest," he said.
del Ama is hardly alone. Uranium industry insiders were caught off guard by a deep run-up in spot market prices, which are now about $58/lb., up sharply from the low $40s in the summer.
RBC Capital Markets Analyst Adam Schatzker said: "It appears that the character of the spot market has changed markedly over the past few months from one that was heavily oversupplied with weak demand to one that has high levels of demand with very little supply."
The price surge hints at a confluence of significant changes—a "perfect storm," in Hochstein's words—now sweeping through the global nuclear power industry, especially in Asia. With China recently moving to accelerate sharply its nuclear building program by 2020—the showpiece is the 3,300 MW Taishan plant in Guangdong Province, due to come online in 2013—the country's nuclear utilities are now trying to secure fuel supplies for years to come.
On Nov. 1, China announced that by 2020 it intended to raise nuclear power's share of the country's total energy production to 112 GW, or 7%, up from the previous target of 70 GW. That translates into an additional 82 Mlb. uranium, according to RBC. Russia, South Korea and Pakistan are also developing reactors and preparing to stockpile long-term inventories.