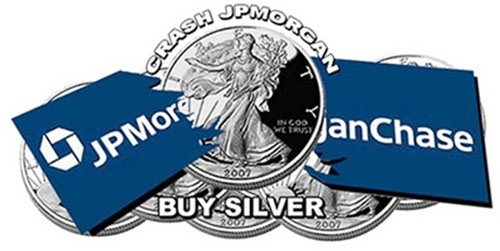 Mike Maloney was recently in Europe working on his next top-secret project. While passing through France, Mike got the chance to visit with the one and only Max Keiser. With more than 25 years of experience with markets and finance, Max often draws from firsthand experiences when providing explicit insights on how the financial markets truly operate.
He has been described as a film producer, journalist and, as JP Morgan is now finding out, an activist investor with powerful ideas on how the masses can help themselves in taking their financial power back.
Last week, Max Keiser was heard on "The Alex Jones Show," brainstorming a brilliant idea that activist investors can aim at commercial banks who hold large concentrated short positions in silver commodity markets (JP Morgan currently has three class action lawsuits filed against it alleging the firm's manipulation of the silver market).
"Crash JP Morgan. Buy Silver. We can in fact crash JP Morgan. JP Morgan is one of the biggest financial terrorists in America today, probably even bigger than Goldman Sachs. If the American people can take this on and put that company under, take that stock price down to zero. . .that would be a major victory!" - Max Keiser
Are you sick of too-big-to-fail banks? Their endless black holes of debt, their enriching power ranks?
Mimic Max's cry out by taking offense in a silver delivery rout. Silver is the anti-corrupt banking-bacteria metal of our society!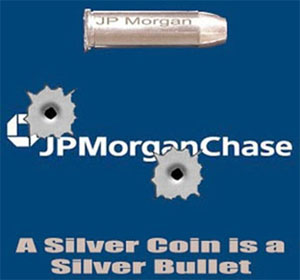 We will never stop mining, using and valuing silver. Since the dawn of civilization, silver has played a part in mankind's modernization. Stockpiles now lost to our past two-century's ingenuities. Nearly all silver ever mined, completely vanished, offline.
Max's momentum building mantra, an incredible and bold call out: Crash JP Morgan! Buy Silver!