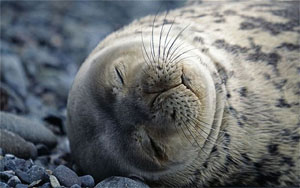 The campaign group said it had filed a claim at the Royal Courts of Justice seeking a ban on new activity until the causes of the Deepwater Horizon accident are fully understood.
More than 20 licenses have been issued for new deepwater drilling this autumn.
Greenpeace's lawyers will argue the drill sites are too close to environmentally sensitive areas that are home to protected species. They will also claim the government has failed to review environmental regulations since the Gulf of Mexico accident.
The government said it had been notified by Greenpeace about the potential action, but had not been served papers.
John Sauven, Greenpeace executive director, said: "The Government is handing out oil drilling licenses left, right and center as if the Deepwater Horizon disaster never happened. And they've got to stop. The oil industry is drilling in riskier and more dangerous places in UK waters, where a spill could be a disaster for wildlife."
Chris Huhne, Britain's energy secretary, has argued that "it's clear that our safety and environmental regulatory regime is fit for purpose".
The UK doubled inspections after the Deepwater Horizon accident and the North Sea oil industry set up a group to look at their own practices. Individual companies have also been reviewing their processes, while insisting that Britain has the world's safest regime.